Anti-Racism Week
#UniteAgainstRacism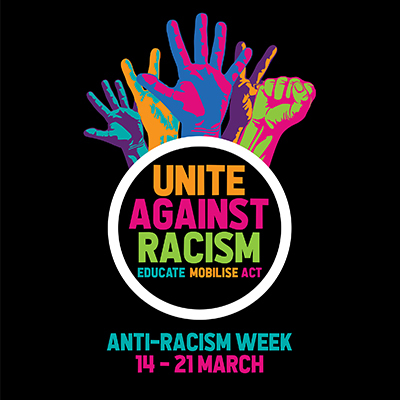 Anti-Racism Week is held annually in South Africa during Human Rights Month from March 14-21. It culminates on Human Rights Day and the International Day for the Elimination of Racial Discrimination.
It is an annual action week aimed at creating public awareness about racism, and how it affects individuals and broader society. It's about ensuring that there is a countrywide focus on tackling racism and that it remains on the national agenda. While Anti-Racism Week is initiated by ARNSA, it aims to get all sectors of society involved and encourages self-initiated activities during the week.
Every year, the ARNSA steering committee selects a theme that characterises the type of programmes held during Anti-Racism Week. This year, we're calling on you to #UniteAgainstRacism!
Over the last few years, we have seen a series of race related incidents in South Africa. More recent examples have included the segregation of learners at a school in Schweizer Reneke, racial tension at Clifton Beach and racialised discourse surrounding the deaths of pupils at Hoërskool Driehoek.
A noticeable trend in many of these instances is the inability of stakeholders to bring people together to find joint and long-term solutions. There's often a polarity of views, that's sometimes further exacerbated by political or community leadership, with little regard for the serious consequences that inflamed racial tensions can result in. At the same time globally, we're seeing how people are shifting towards views and beliefs that are increasingly more exclusionary. We're witnessing the re-emergence of the global right, who are more connected and organised.
The same cannot be said for the anti-racists. Progressive movements remain fragmented, with very little coordination and organisation across communities, provinces, countries and continents.
This needs to change. We need to ensure that our schools, religious institutes, community associations, our universities, workplaces, political parties, unions and sporting clubs remain truly non-racist, and actively challenge discrimination, stereotypes and prejudices. We need to ensure that we link up across communities, provinces and countries to build a world that values diversity, equality and basic human rights. In this way, we can start building what anti-apartheid activist, Ahmed Kathrada, called the 'Greenpeace' against racism.
Tell us what you're doing for Anti-Racism Week: Email: info@kathradafoundation.org or Call 011 854 0082
View the ARNSA media toolkit